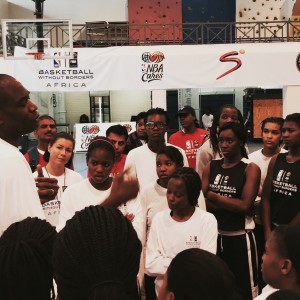 Honoring the heritage of former African basketball players, celebrating the growth of the game, and teaching, equipping and inspiring the next generation.
Legends like Hakeem Olajuwon, Dikembe Mutombo, and Manute Bol overcame incredible obstacles of hunger, poverty, disease and lack of basketball infrastructure to create the first path to the NBA from the continent of Africa. That initial path was very narrow, only wide enough for their tall, lanky frames to forge through. Olajuwon was the first African player to be drafted to the NBA 31 years ago! Perhaps Dikembe was blessed with his 7'2" stature, not just to entertain us with his patented "finger wag" after blocking opponent's shots, but rather because he was destined to be a trailblazing beacon of light for an entire continent of aspiring athletes to follow. These three foundational players took the initial question of "possibility" and turned it into a conversation about something tangible and concrete. What started with a very rugged, unmarked path has widened to a road that 63 NBA players have traveled down . . . and counting.
With a vision to grow the game, the NBA, in partnership with FIBA, started global camps called Basketball without Borders (BWB) in 2001. These camps are development and community outreach programs that unite young basketball players to promote the sport and encourage positive social change in the areas of education, health, and wellness. In the last 13 years BWB has worked with over 1,000 campers from 31 African countries, with 8 players being drafted into the NBA. The impact has transcended beyond these select few athletes, largely due to the power of partnerships and the commitment to scalability within each country by their Federations. These countries have realized that while there may be an endless pool of interest, potential and talent, there still has to be a system and infrastructure in place to cultivate and grow the game. Courts must continue to be built, coaches must be trained, and grassroots programs must be developed.
There are skeptics who challenge why basketball matters in the developing world where many problems are life-threatening, and sports could seem like a luxury. My answer is simple: it is an empowering mechanism for change. Aside from the pure health benefits and positive character developments like perseverance, teamwork and confidence, sports also provide a much-needed spark of hope. This new generation is desperately seeking a catalyst for change that resonates with them on a personal level. Kids may no longer listen to a generic message of HIV prevention because it has become redundant, but when it is incorporated through the fun and interactive activities of our partners at Hoops for Hope as life skills, it becomes more meaningful.
Speaking specifically about my ladies now, when the girls see their teams are awarded the same opportunities as the boy's teams in the BWB Camps and with the Jr. NBA program, a flicker of confidence and self-esteem is ignited. They start to insert themselves into a world where girls historically have been dismissed. Although I have no doubt the WNBA will see an increase of African players in the years to come, the reality is that those numbers will still be relatively small. An Oppenheimer study found that 82% of women in executive-level jobs played organized sports growing up. It is my hope that because of the positive experience they have in sports, we see these young women start to aspire to be a generation of leaders on a continent where women in leadership positions are still an anomaly.
This first NBA game in Africa will go down in the history books, not because of its championship implications, but because it is an emblem of the progress that has been made and the hope of what is yet to come. There was so much emotion and excitement in the air as Team Africa took the court vs. Team World. Although all of the African players had their native flags sewn on their jerseys as a symbol of their heritage and acknowledgement of where their journey began, it was obvious that they were all united by their innate sense of responsibility and pride in representing their "motherland." For the fans, the game was a platform of accreditation and a sign of appreciation for their passionate support of the game of basketball. It was powerful to have the past, present and future of basketball in Africa in the same arena as Dikembe and Hakeem, who made cameo appearances in the game, played alongside our current NBA players, with the young BWB campers mesmerized by the athletes' every move.
Not only has a continent, once considered an outlier, solidified its place in the world of basketball, we have also seen that single, rugged trail the first NBA players blazed now be paved and widened to accommodate a generation of talented, young athletes! The final destination of that path is not just the NBA. It is a world where leaders are cultivated, equality is more visible, and social changes are championed!