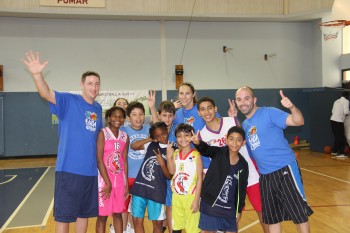 Each year I am amazed at the places I travel to, the people I meet, and the experiences I have all due to a little orange ball. Panama is now the newest stamp in my passport as I have had the opportunity to spend this past week there working along side two of the NBA's best camp instructors, Donnie Arey and Antonio Perez with the Orlando Magic. Jump Shoot Basketball Academy was started in 2004 by two brothers, Luis and Victor Julio, who possessed an equal love for the game of basketball and vision for helping develop the sport in their native country. With this dream in mind, they started their own basketball academy and have spent the last 8 years teaching the fundamentals, developing coaches, and creating teams to compete in various national and international competitions.
The differences in the camp were evident at first glance, as the gym was filled with girls and boys from 6-17 years old, of various nationalities and skill levels. The similarities were equally evident though, as they were all hard workers who were very eager to learn!! The focus of this week of camp was to teach drills that were both challenging and fun and that would develop both foundational skills and a love for the game!! Donnie, Antonio, and I not only spent the week teaching the 100 plus kids that enrolled in our camp we also had the opportunity to work along side the Jump Shoot Academy coaches, passing on knowledge so that they are better equipped to instruct the kids the rest of the year.
My travels have always provided me with a first-hand history lesson, so it was only fitting that the first place I visited was the Mira Flores Panama Canal. The United States helped construct this amazing engineering waterway system in 1914, making it a lot faster to transport materials and goods between the Atlantic and Pacific Oceans. After an incredible private tour, where we were able to walk over the locks, we had the chance to watch an enormous Chinese cargo ship navigate through the various locks with only 2 feet to spare on either side for a bargain price of $400,000!!
Living in Miami, it was an easy transition to go from one tropical city to the next. Founded by the Spanish in 1519, Panama City still has some of the remains for the Old City, or Panama Viejo along with the new city which is being restored to show its stunning architecture as it outlines the coastline. Panama is one of the fastest economically developing countries in Central America and is one of the top 5 retirement destinations in the world!! What I love more than the sun and the landscape is the people that I met. Victor, Luis and their amazing wives and children truly made me feel at home as they welcomed me to not only their country, but also their family! I have so much respect for the Julio family for their devotion to the Panamanian Youth, when we see our first Panamanian WNBA player, without a doubt it will be because of Jump Shoot Academy!!
Gracias a una pelota de baloncesto cada año me sorprendo con las experiencias, los viajes y la gente que la misma me permite conocer. Esta pelota de baloncesto me da oportunidades que nunca soñé poder disfrutar. Panamá es ahora el nuevo sello en mi pasaporte ya que he tenido la oportunidad de pasar allí una semana trabajando codo con codo con dos de los mejores instructores campamentos de la NBA, Donnie Arey y Antonio Perez que pertenecen al Orlando Magic. La Jump Shoot Basketball Academy fue iniciada en 2004 por los hermanos Luis y Víctor Julio, que de la misma forma que sienten pasión por el juego de baloncesto tienen interés de ayudar a desarrollar el deporte en su país de origen. Con este sueño en mente, comenzaron su propia Academia de baloncesto y han pasado los últimos 8 años enseñando los fundamentos del deporte, desarrollando los entrenadores y creando equipos para competir en varios concursos nacionales e internacionales.
Se notó la diferencia en el campamento inmediatamente, el gimnasio se llenaba de niños y niñas de entre 6 a 17 años de edad, pero con diferentes nacionalidades y niveles de habilidad. ¡Lo que si tenían en común todos ellos, eran las ganas de aprender! El enfoque del campamento esa semana era enseñar ejercicios que fueran desafiantes pero divertidos, mientras que al mismo tiempo los jugadores encontraran la oportunidad de desarrollar los fundamentos del juego y sentir pasión por el mismo. Donnie, Antonio y yo no solamente pasamos la semana enseñando a los más de cien niños que se inscribieron en nuestro campamento, pero también tuvimos la oportunidad de trabajar con los entrenadores de la Jump Shoot Basketball Academy quienes se dedicaron a trasferir sus conocimientos a los entrenadores locales pare que ellos estén mejor equipados para instruir a los niños el resto del año.
Mis viajes siempre me han servido para proporcionarme una lección de historia a primera vista, así que era lógico que el primer lugar que visité, fuera el Canal de Mira Flores en Panamá. Los Estados Unidos ayudaron a construir este sistema de ingeniería único en navegación en 1914, haciendo mucho más rápido el transporte de materiales y mercancías entre los océanos Atlántico y Pacífico. ¡Después de una visita privada, donde pude caminar sobre las cerraduras del canal, tuvimos la oportunidad de ver un enorme carguero chino navegar a través de las varias cerraduras con sólo 2 pies de sobra a ambos lados por la pequeña cifra de cuatrocientos mil dólares!
Para mí fue muy fácil pasar de mi vida en Miami, una ciudad tropical a otra muy similar en el país de Panamá. La ciudad de Panamá fue fundada por los españoles en 1519 y todavía cuenta con los restos de esa estructura original o Panamá Viejo que junto con la nueva ciudad está siendo restaurada para exhibir su impresionante arquitectura que traza la línea de la costa. ¡Panamá es uno de los países de Centroamérica con más rápido crecimiento económicamente y es uno de los cinco principales destinos que buscan las personas de la tercera edad para disfrutar su retiro en el mundo! Lo que me gustó aún más que el sol y el paisaje fueron las personas que conocí. ¡Victor, Luis y sus esposas e hijos me hicieron sentir como si realmente estaba en mi casa al acogerme no sólo a su país, pero sino también a su familia! ¡ Me siento tan honrada y tengo tanto respeto por la familia Julio y por su devoción a la juventud panameña, que tengo la certeza que nuestro primer jugador panameño en la WNBA, será sin duda una graduada de la Jump Shoot Basketball Academy!