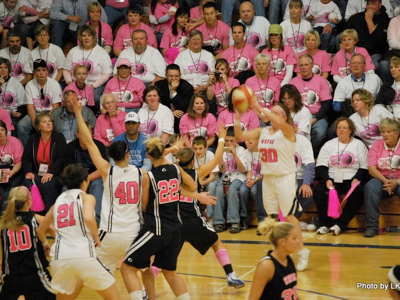 Breast Cancer, what comes to mind when you hear those two words?  Fear, chemo, death?  Perhaps it is perseverance, to conquer, or a survivor?  Whether it is the memory of a loved one you have lost, the face of a friend who is fighting it now, or the scars you posses as a daily reminder of your personal battle, almost everyone's life has been effected by this disease.
You may have noticed a common theme throughout my blogs is creating awareness and evoking action accordingly. Throughout the season, you have seen us wear pink uniforms in support of Breast Health Awareness, one of our WNBA Cares initiatives. I find that people are often touched or moved by different causes, but are uncertain how they can help. I hope this story provide you with not only inspiration, but also confidence that you too can make a significant contribution.
Upon landing in Wichita, Kansas, I set out for my 2 ½ hour drive with nothing but endless, flat farmland as far as the eye could see.  For those of you who grew up in a city, it may be hard for you to imagine towns without stop lights, sharing the highway with tractors, or waving at every vehicle that goes by (because if you lived there, you most definitely knew everyone you passed on the road) but this is simply a way of life for those residents in Wilmore, Englewood, Protection, Ashland and Coldwater (WEPAC Alliance). In these five tiny western Kansas towns, you will be hard-pressed to find somewhere that serves your venti no whip extra hot caramel macchiato or a gourmet restaurant beyond the local diner or truck stop, but what you are guaranteed to find is something many of us have lost touch with in the chaos of our busy lives: a sense of community.
Joe Labelle, a 21-year old resident of Ashland, just lost his grandmother to breast cancer, and wanted to do something about it.  He had no idea that his idea of doing a local Pink and White All-Star Basketball Game would unite these five small communities through one of the most memorable sporting events western Kansas has seen.  Over the next eight months, a committee was formed, calls were made, sponsors were found, and numerous volunteers turned Joe's idea to a reality, as Hoops for Hope was set for Oct. 30, 2009.
Upon finding out that only six local girls could play at a time, the challenge came to fill out the rest of the rosters.  Jackie Stiles, born in Claflin, KS, was contacted and gradually, one by one, former players from KU, K-State (Shalee Lehning) and other bordering state schools agreed to come and play. After committing to coach the game (I was born in Ransom, KS), I quickly found that my coaching debut would be against one of the greatest players to ever grace the hardwood, Cynthia Cooper.  Losing her mom to breast cancer in 1999, Cynthia not only decided to come and coach the game, but she also agreed to be the keynote speaker in the Health Forum the following day.
When organizing the game with Benjamin Anderson, CEO of the local Ashland Health Center, the event quickly became more than just your average all-star game.  Its focus was to provide resources, and educate and encourage local women to take active responsibility for their health. It has been found, that when we invest in the health, well-being, and education of the women in our communities, our culture changes because women in the United States make 80% of the health care decisions for their families. When we teach them the importance of good health and preventative testing, they pass that knowledge on to their loved ones, but when they neglect their own health, the whole family and community suffers.
For these women, the 2 ½ hour drive I made was not one that took them to the nearest airport, but rather to the nearest hospital were they could get a mammogram.  When money is tight and there is a family to be taken care of, many women in these communities opted to not make this necessary trek. The key to fighting breast cancer, which affects 1 in 8 women, is early detection.  The health forum following the game stressed to these women the importance of being proactive when it comes to their healthcare. The proceeds from this game have made it possible to bring a digital mammogram machine to Ashland once a month and because of the publicity surrounding the game, equipment was donated, providing the opportunity for cancer patients to receive chemotherapy locally as well.
One young man's idea and numerous volunteers and supporters have forever changed the landscape of the health care in these five small Kansas towns.  If you take nothing else away from reading this, let it remind you that anything is possible. Take what you are passionate about, use your area of influence, surround yourself with other like-minded people, and set out on your own journey to make a difference.   Whether it is to honor someone we love, support a cause we believe in, or change an aspect of society that we aspire to be better, our motivation may vary, but the potential for our impact is as endless as the flat, farmland that I passed on my 2 ½ hour drive back to the airport in Wichita.
(for more information about the game or to make a donation go to: http://www.wepacthehouse.org )