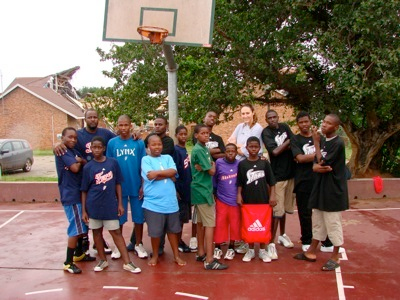 Contrasting factors of race and age are evident at first glance, but upon further investigation you will discover the thread that ties them together is that of the Thembalethu. Serving 13 villages near the southeast corner of Mpumalanga Province in South Africa, this Home-Based Care project (literally translated: "our hope") has been operating since July 1999. Sally McKibben is the visionary founder of this project, and Blessing Mahlalela is a tangible example of that dream being fulfilled.
A daughter of Irish missionaries, Sally's pale complexion makes her easily recognizable in the village called Jeppe's Reef, where she calls home. In defiance the apartheid era in the mid-1980's, Sally illegally moved to this region that was labeled a black homeland—reserved for blacks only. She started out helping to feed 30,000 refugees a month caught in the crossfire of a Civil War in Mozambique. As the refugee crisis subsided, the effects of AIDS pandemic started to lay its claim on the community.
Over 250 women volunteer care workers joined Sally and Bridgett Moyane to go out daily to homes in rural villages to visit and assist patients suffering from AIDS. As people quickly began to die due to lack of testing and the appropriate drugs, Sally found herself facing another challenge: what to do with the thousands of children left orphaned by this disease . . . hence the birth of Thembalethu. The volunteers began to keep a database of all the orphaned children, providing them not only with food, clothing, and shelter, but also helping them get the necessary documentation to receive national aid for school. When this wasn't possible, they personally covered the cost of the uniforms and school supplies.
Youth in Action (YIA) is yet another branch of Thembalethu that uses sports, drama, arts and crafts, journalism, and dance as a AIDS prevention mechanism with the youth. Through these different avenues, young men and women are also being taught valuable life-skills lessons and being challenged and empowered to take control over all aspects of their lives from health to education to profession.
Blessing Mahlalela is an amazing young man who is not only experiencing the personal benefits of Thembalethu, but who is also fulfilling the vision that was birthed by Sally almost 20 years ago. In our classroom life-skills sessions, Blessing was amazingly attentive, energetic to contribute, while constantly contemplating how to integrate this knowledge into bettering his community. On the court, he not only grasped the fundamental concepts that we taught, but proved to be a natural leader as just the next day he was implementing the drills with his team.
I left South Africa absolutely inspired by what one woman with a vision, heart, and lifetime devotion has been able to do. Equally inspirational are the men and women I met, like Blessing, who are embracing the opportunity to not only change the direction of their lives, but that of their families and entire communities.