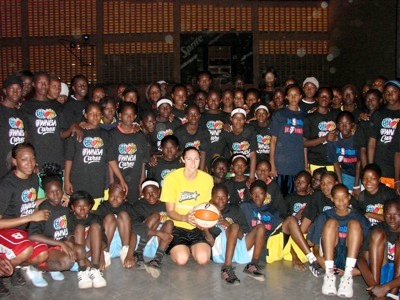 Walking in the basketball arena in Bamako, Mali, my eyes went straight to the two slightly bent rims on either side of undoubtedly one of the nicest basketball court in the country. As I turned around, I was greeted by 60 pairs of eyes staring curiously at me. With the help of a few of Hamchetou Maiga-Ba's African Champion, Olympic qualifying teammates, we were about to conduct a basketball clinic for the 6 girl's league teams in the city.
As I surveyed the crowed I immediately recognized the similarities and differences between us. Remembering back to when I was their age, I could identify with their eagerness to attend a basketball camp, nervousness to do ball-handling drills in front the group, and excitement to just be in the gym with my friends. Then, there were the obvious differences: age, ethnicity, skill level, but there was one thing that I couldn't shake from my consciousness was the weight of responsibility on these children that I never had to experience.
As a professional athlete, I have learned what it takes for me to compete at a high level, what I should eat, how much rest I need, and how to maintain my fitness level. These children must be responsible way beyond their 10,12, or 14 years. Daily they wonder where their next meal will come from, if they can find clean water, and how they can prevent disease (malaria and others) from making them sick or quite possibly killing them.
After the clinic, where I was quite impressed by the level of their fundamental skills, we went outside and joined a group of young soccer players who were simultaneously taking part in a clinic with MLS stars Dwayne DeRosario and Diego Gutierrez. As I looked at this group of young men and women, I felt conflicting emotions of sadness and hope. Statistically a child dies every 30 seconds in Africa of malaria. I wanted so desperately to give them all the carefree childhood that they deserve. As we distributed insecticide-treated mosquito nets to every child, I was slightly encouraged. These children left wearing new t-shirts, armed with as much information as we could give them in the few hours we had together, and grasping one of the resources (net) necessary to allow them to stay healthy enough to put that new found knowledge to practice!